VisiSoap
VISIBLE SOAP FOR CLEAN HANDS.
Easy-to-use for personal use or teaching others
Gentle on skin, visible to the eye, tough on germs
100% natural dye
Washes off residue-free
GERMS AREN'T VISIBLE.
NEITHER WERE HANDWASHING MISTAKES — UNTIL NOW.
WHAT IS VisiSoap?
An innovative soap
Put your soap coverage in plain view while washing your hands. VisiSoap is a high-quality hand soap that leaves nothing to the imagination. Lather up and see all the spots you've missed while knowing that VisiSoap leaves your hands clean, soft, and free of germs.

An immersive teaching tool
Proper handwashing starts at an early age. VisiSoap is a powerful teaching tool for teachers and parents, letting them teach proper hand hygiene with a simple and fun interactive experience.

A powerful habit-former
Habits can take a long time to form — but not with VisiSoap. It's designed to quickly form proper hand washing techniques right from the first use, stopping (and killing) germs in their tracks time and time again.
BUY VisiSoap
PROPER HAND HYGIENE
HAS NEVER BEEN
THIS EASY
HERE'S HOW IT WORKS
Get wet
Roll up your sleeves, turn on the faucet and get your hands wet.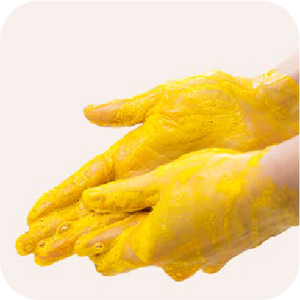 Soap up
Apply VisiSoap thoroughly on your wet hands and wrists.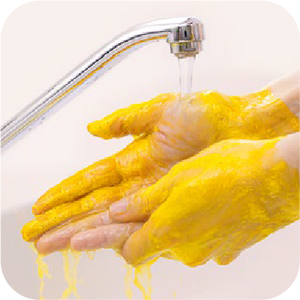 Wash off
Let the water flow! Rinse off VisiSoap until no more soap is visible.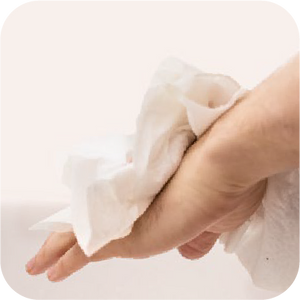 Dry Well
Dry your hands properly. The most hygienic way is to use paper towels.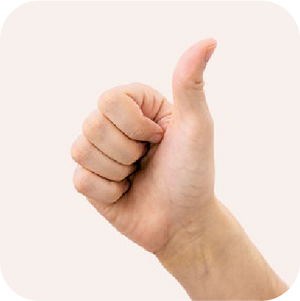 Feel good
Good job! Your hands are now thoroughly clean.
80%
OF GERMS ARE TRANSMITTED BY OUR HANDS.
The good news is that proper washing with soap and water is one of the most effective ways to reduce the transmission of infectious diseases.

It's an age-old technique – we all know this. So why do only 5% of people wash their hands properly?

Well, germs are invisible. And since we can't see them, we find it hard to eliminate them. Plus, even leaving soap residue on your hands can mean germs are still there.
VisiSoap SHOWS US WHAT WE OFTEN OVERLOOK.
Areas where soap is missing
Soap residue not yet washed away
YOU LOVE YOUR SKIN. WE LOVE YOUR SKIN, TOO.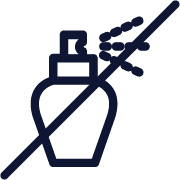 FRAGRANCE
FREE
Zero fragrances used, and natural dye provides a subtle fruity scent.

MILD
SURFACTANTS
We use only simple, skin-friendly,
high-performing ingredients.
ALLERGEN
FREE
Clean ingredients and no fragrances mean VisiSoap is free of allergens.

ALL
NATURAL
VisiSoap is made only from natural or nature-identical ingredients.
Application tips
Use enough soap.
1-2 pumps should do it, depending on your hand size. Using enough soap is key to knowing whether you've missed a spot!

Lather your hands thoroughly.
If you see areas that aren't yellow yet, keep lathering, focusing on missed areas, until everything is completely yellow from your wrist down.

Rinse off even more thoroughly.
Germs dissolve in soap, so make sure to rinse it off thoroughly! This protects your health and your skin. Continue rinsing until there's no VisiSoap remaining on your hands.
BETTER HAND HYGIENE,
ONE FACT AT A TIME
100 GERMS
PER CM2
There are typically about 100 germs on every square centimetre of your hand. But it's not the sheer number of germs that determines whether we get sick or not — it's the type. The dangerous type are pathogens that cause illness and disease in humans.
OCCASION
MATTERS
The frequency of our hand washing isn't as important as the occasion. Critical hand washing occasions include after using a toilet, before and after eating, after touching animals, and upon returning home.
MORE
PATIENCE
Experts agree it takes 20-30 seconds to properly wash your hands, but incredibly few people stick to this guideline. Observational studies show that only 5% of people wash their hands long enough
PROPER
DRYING
Wet hands spread 1000x more bacteria than dry hands do, so drying is an important part of effective hand washing. The most hygienic way to dry your hands is with a disposable paper towel.
FREQUENTLY ASKED QUESTIONS
FREQUENTLY ASKED QUESTIONS
I GOT VisiSoap ON MY CLOTHES.
WHAT SHOULD I DO?
No worries! VisiSoap is made with 100% natural dyes that decolourize on their own when they're exposed to air and light.
To speed up the clean up, simply remove the fresh stains with water and a suitable detergent.

Put textiles with dried stains into the washing machine. In rare cases, slight discoloration may remain after washing but will disappear by itself in 2 to 3 days.

Neat, right?
FREQUENTLY ASKED QUESTIONS
THERE'S STILL VisiSoap ON MY HANDS.
HOW DO I REMOVE IT?
Easy peasy. Rinse the areas of your hands with soap residue even more thoroughly. Rinsing with warm water speeds up the rinsing process. For bonus points, pay special attention to your fingertips, interspaces and thumbs.
And don't worry — VisiSoap doesn't absorb into the skin. In fact, the all-natural yellow dye helps by showing you where soap (and the germs dissolved in it) has been left behind.
FREQUENTLY ASKED QUESTIONS
CAN VisiSoap STAIN MY SINK?
Nope! VisiSoap isn't just kind to your skin — it's kind to your sink, too. Even the thickest of soap blobs easily rinse off sinks and faucets, leaving no trace behind.
FREQUENTLY ASKED QUESTIONS
IS VisiSoap SAFE FOR CHILDREN?
Absolutely! In fact, VisiSoap is ideal for children because it's a fun, interactive way to learn proper hand washing skills. Adult supervision for small children is recommended.

With VisiSoap, a visit to the sink is always a fun experience for young and old.