Germs aren't visible, and neither were hand washing mistakes — until now.

VisiSoap lets you see exactly where soap has (and has not) covered your hands, helping you wash your hands properly and rinse off residue-free. With VisiSoap, proper hand hygiene has never been so easy to do for ourselves or teach to others.


Gentle on skin, visible to the eye, tough on germs
100% natural dye
Washes off residue-free
A PROPER CLEAN IS EASY
WITH VisiSoap
Get wet
Roll up your sleeves, turn on the faucet and get your hands wet.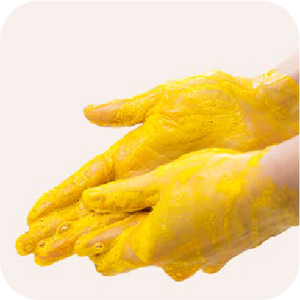 Soap up
Apply VisiSoap thoroughly on your wet hands and wrists.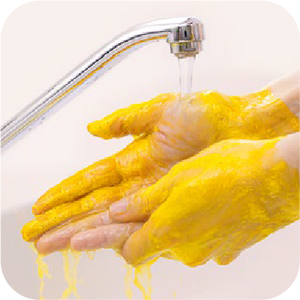 Wash off
Let the water flow! Rinse off VisiSoap until no more soap is visible.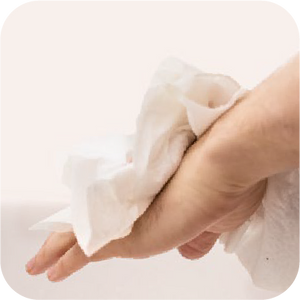 Dry Well
Dry your hands properly. The most hygienic way is to use paper towels.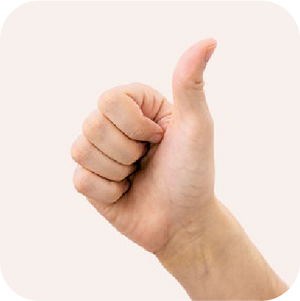 Feel good
Good job! Your hands are now thoroughly clean.
100% NATURAL DYES.
NO PERFUME. NO ALLERGENS.
SIMPLY GOOD FOR THE SKIN.
VisiSoap was developed as a better way to protect the health of our society. Of course, our overall health includes the health of our skin. That's why we stand behind the natural ingredients and skin-safe formula you'll find in VisiSoap.
None of the bad stuff, all of the clean!

NO FRAGRANCES — The fruity, fresh smell of VisiSoap comes from 100% natural dye, a natural plant extract.

NO ALLERGENS — We believe a chemical fragrance is not worth the risk of contact dermatitis, or worse. VisiSoap does not contain allergens like geraniol, linalool, or limonene.
MILD SURFACTANTS — Surfactants are the most important component of soaps. In VisiSoap, they're responsible for the lifting of dirt and killing of germs. Our surfactants are mild and kind to the skin without reducing washing performance.

NATURAL INGREDIENTS — We only use ingredients that are natural or nature-identical. And the yellow dye on your hands? It's a 100% natural pigment derived from plant extracts.